Negri Bossi recently received an order for two Vector V650 and two Canbio ST 500 plants, from Romanian company Subansamble Auto, a member of the GIC group that operates in the processing of thermoplastic and polyurethane resins for the automotive industry. Subansamble Auto is already a user of Negri Bossi machines with clamping forces of up to 1,500 tons, ranging from the Bi Power to the Multimat, the latter featuring an automatic rotary table.
"The Negri Bossi team has shown a high level of professionalism in its dealings with us, from the initial request for quotation right through to the installation and startup of our machines. Negri Bossi injection moulding machines, which are highly reliable, have been crucial to our success, ensuring excellent material processing. Furthermore, the new control unit, has been improved and upgraded, as has the overall level of efficiency", said Alin Zamfir, project manager at Subansamble Auto.
The Vector hydraulic series with 5-point double toggle clamp is available in 650, 800, 1,100 and 1,300-ton versions. These machines are built in two parts, in order to ensure the modularity of the mould and injection unit set, while the lowered bed guarantees greater accessibility. The injection unit is characterised by a hydraulic reciprocating screw with an injection capacity ranging from 1,875 to 11,000 g (PS).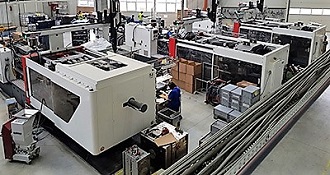 The Canbio ST with five-point toggle clamp, also a hydraulic series, is available in models with clamping forces of 180, 250, 330, 400 and 500 tons. The twin servo pumps allow simultaneous movements, for example ejector or core operation during the clamping movement; this reduces cycle times without affecting the moulding performance and thus increases the machine's overall energy efficiency.
The GIC group has a global turnover of 115 million euros and 2,500 employees worldwide.