Friul Filiere has always set great store by its participation at the Plast fair, but this year's event will be a particularly special one for the company: having recently turned 40, it could not have wished for a better stage on which to celebrate this significant milestone. The Friuli-based manufacturer is therefore anticipating, with great enthusiasm, the international exhibition taking place at the Fiera Milano fairgrounds from 29 May to 1 June, and is currently getting ready to participate in the event with a large stand that will allow it to offer its most recent technological innovations, unveil new partnerships and greet visitors.
Specifically, the following will be exhibited at the stand:
- an Omega60 single-screw extruder offering high energy savings;
- equipment for the extrusion of polyurethane profiles;
- the new Futura40 line that, together with a R63 twin-screw extruder, dedicated die and dedicated calibration system, will be used to provide, each day, live extrusion demonstrations during which profiles in Resysta, a composite material made from rice husk and a very small proportion of polymer, will be produced.
Futura40, a name that hints at Friul Filiere's 40 years in the business, reflects a modern industrial philosophy that, for the company, is summed up in the following three key concepts: energy saving, safety and Industry 4.0.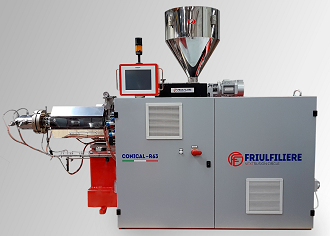 Friul Filiere is currently one of the few companies in Europe able to provide complete process know-how for the production of Resysta composite profiles: extruders, equipment and auxiliary equipment for finishing.
At Plast 2018, Friul Filiere will also be organising a series of conferences to be held by experts in the field. These will deal with the most innovative technologies and topical subjects such as:
- Industry 4.0;
- Tubeasy: less waste, greater productivity;
- ultra-high-speed production of PA pipes;
- PU: it can be extruded;
- Resysta: all the opportunities offered by a "green" composite material.