Specialty chemicals company Lanxess continues its profitable growth path. The company ended fiscal year 2017 with record earnings. Lanxess has also made a good start to the new year. Ebitda pre exceptionals rose by 29.6% in fiscal year 2017 to 1.29 billion euros, the highest result in the company's history. In the previous year, Ebitda pre exceptionals amounted to 995 million euros. The operating result was therefore at the top end of the forecast range of 1.25 billion to 1.3 billion euros.
The main drivers of the strong rise in earnings were higher volumes in all segments as well as the strong contribution of the Chemtura businesses acquired in the previous year. The Ebitda margin pre exceptionals increased from 12.9% to 13.3%, moving another step closer to the mid-term margin target. From 2021, the average margin is expected to be between 14% and 18%. Group revenue also rose substantially by 25.5% to 9.66 billion euros in the last fiscal year compared with 7.7 billion euros the year before.
Net income totaled 87 million euros, after 192 million euros in the previous year. This decline was due to significant one-time exceptional expenses, particularly for the integration of the Chemtura businesses and consolidation of production networks and value chains as well as a one-time charge arising from the US tax reform. Adjusted for these exceptional items as well as amortization of intangible assets, net income was up by 53.9% from 246 million to 379 million euros.
Along with its acquisitions, Lanxess also accelerated its organic growth in 2017. The group invested around 550 million euros in its global plant network, including around 235 million euros in the German sites. It also made progress with its aim of achieving a greater regional balance of its business in 2017. Lanxess continued to expand its presence and its sales in the growth regions of North America and Asia. North America increased its share of global sales from 17 to 19%, while that of Asia-Pacific rose from 26 to 28%. This means that the group now generates almost half its sales in these two market regions.
Sales and earnings up in all segments. In the Advanced Intermediates segment came to 1.97 billion euros, 13.1% above the prior-year figure of 1.74 billion euros. In the Specialty Additives segment almost doubled, soaring by 90.7% to 1.60 billion euros compared with 841 million euros in the previous year. In the Performance Chemicals segment rose by 10.5% from 1.30 billion to 1.44 billion euros. In the Engineering Materials segment increased by 29.4% from 1.06 billion to 1.37 billion euros.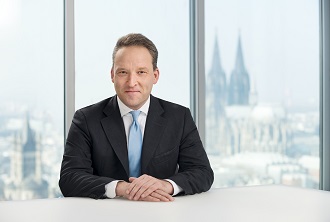 In the Arlanxeo segment, sales were up by 19.2% to 3.23 billion euros against 2.71 billion euros a year earlier.
"We achieved a lot strategically and operationally in the last fiscal year, laying firm foundations for the future", said Matthias Zachert (in the side picture), chairman of the Lanxess board of management. "With Chemtura, we successfully completed our biggest acquisition to date, and also significantly improved the quality of our portfolio even more. In this set-up, we achieved the best earnings in Lanxess's history so far while further enhancing the Group's profitability".