Amcor has announced the expansion of its injection blow moulding (IBM) and extrusion blow moulding (EBM) capabilities for the production of healthcare, food and home and personal care packaging. The company has invested in the Jet series all-electric IBM platform from Meccanoplastica Group, Florence, Italy and the KBB series all-electric EBM platform from Kautex Maschinenbau, Bonn, Germany.
"Over time, we have grown our diversified rigid plastics business through acquisition and as a result have a wide range of experience with various technology platforms and vendors. Recently, we have begun to pursue investments that will modernize and deliver greater consistency, quality, and sustainability", said Suresh Krishnan, senior director of platform strategy for Amcor Rigid Plastics' Diversified Products Division. "These investments in IBM and EBM platforms are examples which will enable us to refresh our manufacturing assets, delivering greater quality with the latest technologies to meet today's demands of the packaging industry".
These all-electric platforms offer precision, repeatability, consistency and quality for improved tooling life. They enable achieving our sustainability goals by enabling lightweight containers through improved consistency in wall thickness and major reduction in energy consumption which lowers environmental emissions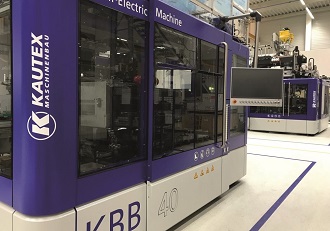 and the carbon footprint. These machines also provide faster cycle times, higher cavitation, and reduced repair and maintenance due to the elimination of hydraulics/oil.
The first Jet IBM machine is targeted for production of PP and HDPE healthcare packaging, ranging from 7 ml to 50 ml vials and has recently been commissioned at Amcor's Youngsville, North Carolina, facility. This first KBB EBM machine is targeted for a range of home and personal care containers including bathroom cleaners, shampoo, and bath wash ranging in size from 118 to 946 ml.
Source: MacPlas (www.macplas.it)