Six robots are exhibited by Sepro at Plast 2018 on the stand of its Italian distributor, Sverital (C61/D62, hall 22).
A Sepro-Yaskawa 6X-70L 6-axis robot with Visual 3 control performs several important functions in an automation cell intended to demonstrate the integration of innovative technologies and products from different companies in a single working cell designed and built by Sverital Automation. The cell produces an inspection mirror that incorporates a PA 66 S/30 support and a thermoplastic elastomer grip. The articulated arm robot removes the moulded part from injection-moulding machine and positions it on a rotary table for secondary operations - including adhesive mounting of the mirror and laser marking - and then unloads the finished device before the cycle repeats.
The 6X-70L is the smallest of a range that can service injection-moulding machines from 20 up to 5000 tons. The unit on operating at Plast 2018 has a working payload of up to 5 kg and has a reach of 895 mm.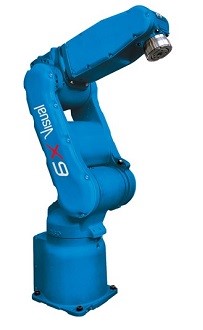 Offered in partnership with Yaskawa-Motoman, Sepro-Yaskawa robots provide an attractive balance of power, efficiency, agility and economy. Sepro's premium Visual 3 control platform, which was developed specifically for injection moulding applications, has an intuitive, graphical interface and supporting features that make it easy to program and operate even complex 6-axis robots.
Other Sepro Cartesian robots on the Sverital stand include:
- a Strong 40 LD, a robust and economical solution for moulding machines up to 1000 tons, and a smaller S5-15 perform together in robot ballet. The Strong unit is manipulating a Volkswagen Tiguan grille, and S5-15 handles a Ducati motorcycle part;
- a 5X-25 is being shown handling Volkswagen wheel covers. Its 5-axis configuration, which adds the precision of a 2-axis Stäubli CNC wrist to a standard 3-axis Sepro Cartesian structure, enables the beam robot to handle technically demanding parts at high production speeds;
- a Success 5, the smallest 3-axis-servo (CNC) robot in Sepro's product line, and an S5 Picker, which features a Cartesian-beam design with 3 servo-driven axes, are being shown together in a demonstration of dexterity involving moulded iPhone cases.
Source: MacPlas (www.macplas.it)